Taste the future with AU FOOD at this year's Food Festival
At Food Festival 2023 you can hear talented researchers speak about the newest research within the field of Food Science.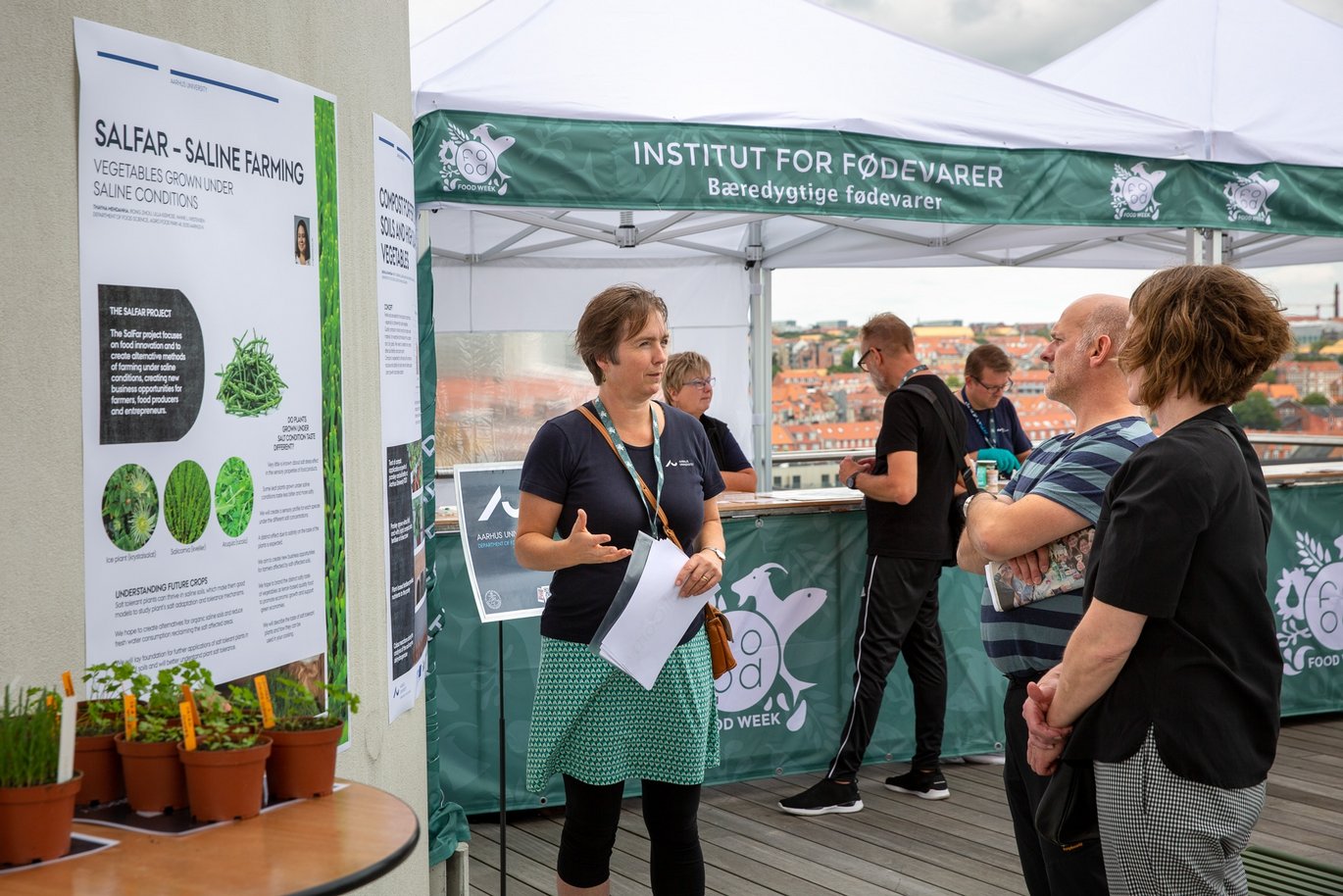 What does climate change mean for fruit and berry production? How do you keep your sourdough alive? How do we ensure better animal welfare in poultry and pig populations? And how well do you actually know your waste?
Find answers to these questions and much more at The Department of Food Science's stand at this year's Food Festival at Tangkrogen in Aarhus during the first weekend of September.
You can also hear about the protein sources of the future, as well as participate in a consumer study tasting beverages and hear about the many exciting educational programs that AU FOOD offers.
The researchers will be ready with samples, quizzes, and new knowledge when the festival opens its doors to the public on Friday September 1st at 13.00.
Latest research
Department Head Michelle Williams is looking forward to The Department of Food Science once again having the opportunity to present the festival's many visitors with the newest knowledge in the field of food science.
"There is a real focus on the sustainability of our food system; how we produce, process, package and the healthiness of our foods. We will be ready to present and discuss a broad selection of our research, and we have made sure that the visitors can participate in our projects through tasting sessions and samples. We can't wait to involve our guests in how we create the sustainable foods of the future," she says.
The Department of Food Science has been part of the Food Festival since the festival's early beginning in 2012.
As the festival's guests are interested in all things related to food, it is the perfect forum to present food research, she explains.
"We will also showcase how our research is mostly carried out in collaboration with industrial partners, both nationally and internationally. Some of our projects are close to market, this makes our research very relevant, and enables us to deliver solutions and new knowledge for the benefit of society. Naturally, some of our research questions are far from the marketplace, but we provide basic knowledge, or a new understanding, or educate your talent to add value for industry and society in the longer term," she says.
Prime placement
Again this year, The Department of Food Science will be located at "Torvet" in the middle of the festival square, where you can find us all weekend.
The department's talented researchers are ready to talk about exciting research projects, study programmes and much, much more.
See the programme for the rest of the Food Festival and buy tickets here.
Full programme
At the Department of Food Science's stand, you can hear more about:
InformPack:

A European project that explores knowledge, information gaps, problems, and attitudes towards food packaging across cultures. The findings are used to design actions, tools and strategies that can influence public behaviour and future solutions. At the stand, you can get tips and tricks on sorting waste and try your luck in tests and quizzes that will make you ponder the question: How well do you know your waste?
Science to policy advice:

Every year, The Department of Food Science helps Aarhus University answer questions from ministries and governmental agencies. The stand presents a recent example of this: a report on the development of green and alternative proteins in Denmark. Here, you can hear about different future protein sources and the advantages, disadvantages, potentials and barriers that they are facing.




Traditional fermented foods:

you may know that sauerkraut, yogurt, and sourdough bread are produced using fermentation, but did you know that fermentation is also an important part of producing chocolate, coffee and salami? The stand answers which bacteria produce B12 and how to keep your sourdough happy and alive. Learn more about the microbiology behind the ancient method of preservation that has been used for centuries.




Packaging of the future:

you have probably experienced that one or more carrots in a bag get soggy or moldy before they are eaten and have to be thrown out. The researchers at the stand present solutions that are more climate-friendly and make your carrots stay fresh for longer. At the stand, you can also learn about thermoforming packaging and watch live demonstrations of the thermoforming process, giving insight into how plastic materials can be converted into a variety of packaging products.




Exciting educational opportunities:

Are a food geek, and do you dream of finding solutions to the food problems of the future? Then Aarhus University may be an ideal place for your future studies. Meet the students and hear about everyday life at a master's degree in "Molecular Nutrition and Food Technology" and an international master's degree in "Food Systems". You can also hear about the brand-new bachelor in "Plant and Food Science".

Consumer study on beverages:

From both society and industry side, there is a high focus on future beverages because of their potential health effects. At this year's Food Festival there will be samples of current market beverages, so you can test your preferences and help researchers to learn more about the target groups for these drinks.




MonoGutHealth:

How do we ensure better animal welfare and sustainability in poultry and pig populations? This and much more is the topic of this European Project. This international initiative brings together over 20 research institutions and business partners from ten European countries. The main goal is to find innovative solutions to the most pressing challenges in pig and chicken production. Two of the PhD projects are part of AU FOOD, and you can hear much more about them at the stand.




Biosubstrate 2.0:

The project aims to replace 50% of peat consumption in Denmark towards 2030 with more sustainable alternatives. The alternative growing medias will be based on renewable biomasses such as wood, willow, grass, grass fibre and degassed fibre, and the substrate mixtures are tested in horticulture with the production of herbs, strawberries, ornamental plants, and nursery plants. Hear about why this is important at the stand.




Fruit quality of the future:

There is a high demand for healthy and nutritious fruit and berries, but currently fruit production is under pressure from environmental challenges such as drought and extreme temperatures. What does this mean for fruit production, and what can be done to ensure that the fruit and berry production of the future is climate-safe? Get the answer to this and much more at the stand.